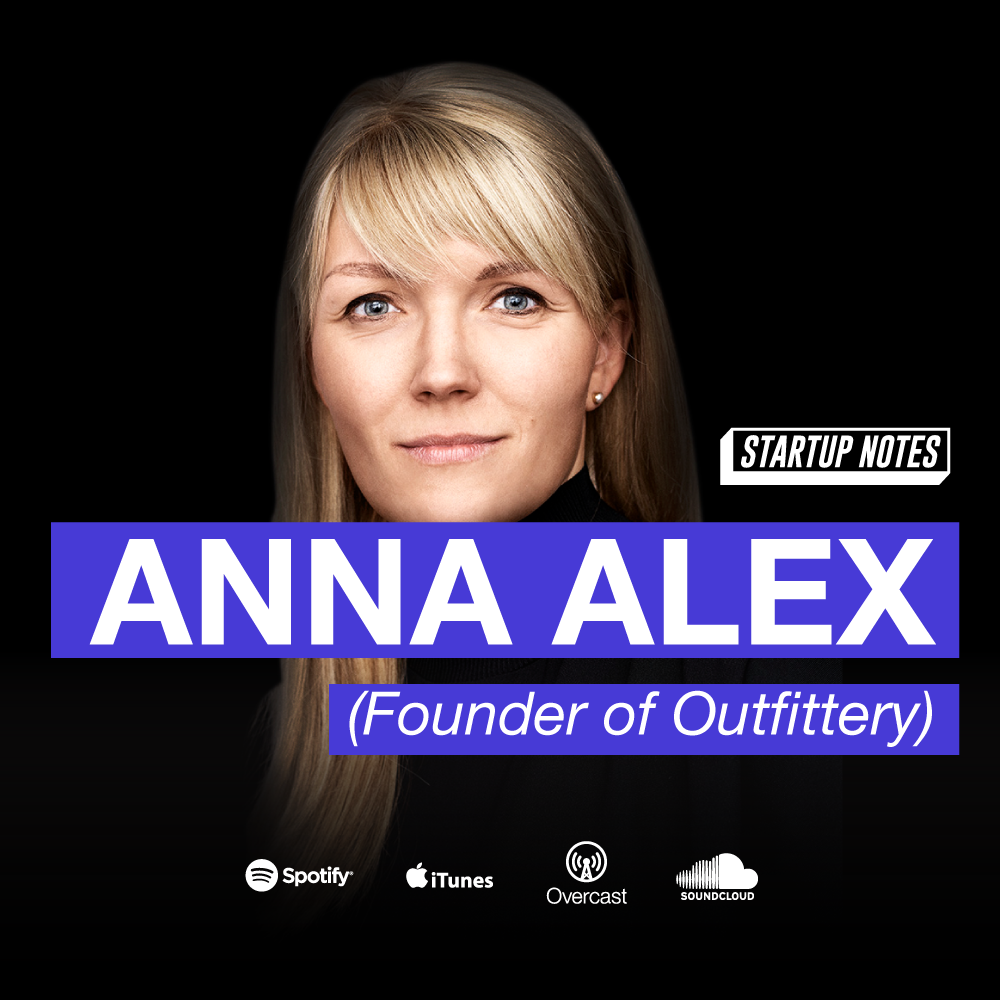 Anna Alex belongs to Germany's top female entrepreneurs. Since 2012, she and her co-founder Julia Bösch have been disrupting the fashion industry with OUTFITTERY. The startup offers a curated online shopping experience for men that allows their clients to save time while receiving professional style advice by its stylists. OUTFITTERY is operating in eight European countries, employs 300 people and has raised roughly 50m EUR in funding so far (e.g. from well-known VC's like Mangrove Capital and Northzone).
Prior to starting her own business, Anna was Head of Product Management & IT at a Swiss online company and also worked for German startup powerhouse Rocket Internet as well as Smava. She holds a Master's degree in Economics.
In this episode, we are talking to Anna about her entrepreneurial journey of building OUTFITTERY from scratch, the reasons for the low number of female founders in Europe, the power of good storytelling, and collecting and analyzing the right data for delivering your clients the best product and experience possible.
Here is the full list of topics that we discussed with fashion industry disruptor Anna Alex:
[01:06 – 1:36] Introduction of Anna and her background
[01:37 – 02:17] Explanation of OUTFITTERY's business model
[02:18 – 03:28] On OUTFITTERY's different growth stages and focus topics so far
[03:29 – 04:21] One thing that people would be surprised to know about OUTFITTERY
[04:22  – 04:49] The split between different roles among OUTFITTERY's staff
[04:50  – 06:51] Anna's worst management decision and her learnings from it [Listener Question]
[06:52  – 08:23] OUTFITTERY's unfair advantage in comparison to its competitors
[08:24 – 08:56] Anna's view on provocative media coverage [08:57 – 10:02] What the future holds for OUTFITTERY in 2018 & 2019
[10:03 – 13:05] How the fashion companies of the future will be based on technology
[13:06 – 14:57] The role of Amazon in the fashion ecommerce space
[14:58 – 18:00] Anna's opinion on the importance to address the topic "female founders"
[18:01 – 22:00] On the power of good storytelling when building a startup
[22:01 – 27:01] Anna's best practices on structuring her work day [Listener Question]
[27:02 – 27:49] The KPIs to track for retaining great talent for your startup
[27:50 – 28:12] The one must-read book for founders
[28:13  – 29:43] The best life advice that Anna has been given
[29:44 – 30:55] Startups that former employees went on to found
[30:56 – 31:19] One thing that Anna fundamentally disagrees on with other people
[31:20 – 32:30] Advice that founders should write down on post-it notes and always remember
[32:31 – 34:10] Anna's ultimate vision for OUTFITTERY