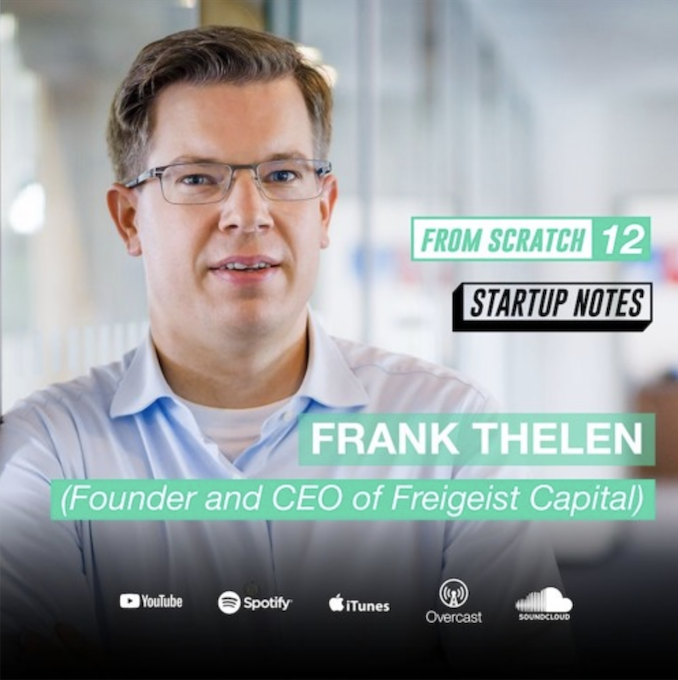 Being a serial founder and investor, Frank Thelen has an impressive track record over the last 25 years with having reached 100+ million consumers in 60 countries, receiving several awards, and becoming not just a renowned keynote speaker but also one of the leading voices of the German startup scene.
As CEO of Freigeist Capital, Frank invests in early-stage tech startups as well as promising companies in the food industry. Notable investments and ventures as a founder include among others ip.labs (sold to Fujifilm in 2008), Scanbot, MyTaxi, Wunderlist, Lilium, Pitch, and Little Lunch. In 2014, Frank joined the prime time TV show "Dragons' Den", broadcasted in Germany as "Die Höhle der Löwen", making him known also to the wider public. His bestselling autobiography "Startup-DNA" was published in 2018.
In this episode, moderator Christian Miele (Partner at e.ventures) and Frank elaborate on different exit options, whether founders should have an exit strategy from the beginning or not, the process of selling your startup, and how to negotiate the right price for your company.
------
"From Scratch" is an exclusive series of masterclasses produced by Startup Notes and McKinsey Digital in Berlin that brings together Europe's top entrepreneurs, investors, and innovators to give exclusive lectures on digitalization.